Tuesday, November 24th, 2009
---
6:58 pm
- Ragamuffin Game:Vampire Puff Puff
Yeaaaah, so if you follow me on Twitter, you saw earlier tonight what I previewed. Vampire Puff Puff, my first video game coming soon. Ragamuffin related and story based. Basically, it kicks in the Lenore universe where Pooty Applewater appears and kidnaps Lenore to bring her back to Heck. Ragamuffin must fight through 5 different levels to rescue her. It's initially being released on iPhone. If it does well, we'll release it on other platforms like XBox Live, maybe browser based, etc... I have TONS of updates planned for it if it makes the investor's investment money back, like achievements, new weapons, an outfit store, multiplayer, rideable characters, going on rides in Spookyland, etc. The game is launching with 23 different bad guys to fight, including 15 unique zombies. The goal was to make the most unique and entertaining side scroller shooter ever. Weapons include a frozen cobra, the Poe Poe gun- a quick firing weapon that shoots ravens and weeps when it's out of ammo, the Bratgun- a shotgun like weapon that turns cows into sausages (it's a cartoon game, vegans!), and other stuff too. I'm fully open to ideas for updates and welcome them. For the first time ever, I'm asking for help and support in this endeavor just so I can add the updates to make this the full game I envision. It's been my dream for a long time to see what I could create video game wise, and I'm pretty proud of what I've come up with. All concept, art and writing were done by me. 17 hour work days 7 days a week. I miss my friends! Basically everything but the actual programming cause I'd just stare at the computer screen and drool if I had to figure that out. Here's some screen shots of the game:
http://twitpic.com/photos/Taxidermied

PS....Livejournal friends only: I've written a bunch of new Lenore newspaper style strips and hope to start posting them soon. From above, hopefully you can see why I've been crazy busy and why I've been a bad, bad updater boy.

current mood:
accomplished
Wednesday, July 22nd, 2009
---
4:27 pm
- New Lenore out today and Comic Con.
New Lenore out today. I just went to Meltdown Comics and bought one. Had no idea it was out and was there for something else. Weird. It's actually called Lenore volume 2-#1, not Lenore #14. My new overlords in their grand wisdom changed it to that. I think it's confusing but one must not question one's overlords for fear of head 'sploding. Available in 2 covers.

Comic Con:
Comic Con signing schedule: Thursday- I think, THINK Darkhorse booth from 1-2pm. Was late getting back to them so it's iffy but likely. If not, I'll be walking around and you may throw stuff at me as long as it's fluffy stuff or dolla' billz, ya'll.

Comic Con Signing Schedule:Friday-Autograph Alley,Table AA3.11am- 12pm. Signing at the Titan Booth from 3pm-4.

Comic Con signing schedule:Saturday. Titan booth at 1pm-2. My panel hosted by Alex Albrecht -room 8, 6-7pm. Will try not to die or something.

Comic Con signing schedule:Sunday. I will be a jelly puppet and people will slip and fall off of me making a "squip" sorta sound. That's it.

current mood: Craaaazy Busy
Friday, July 17th, 2009
---
12:02 pm
- Comic Con, Spookyland and PHONE DEATH
As I tend to do, I'll be at Comic Con again this year. Just so it's clear once more, I am no longer with SLG, so I will not be at their booth other than to say hi and hope they don't stone me. I will be at the Titan booth, maybe Darkhorse, artist alley and I have a panel where I hope I don't get electrocuted on the lips this time. The new issue of Lenore will be available just in time. Ragamuffin uses one of those loader robots from Aliens, so you know it's awesome.
Info here: http://comiccon.titanbooks.com/blog/2009/07/16/roman-dirge-heads-up-comic-con-for-titan/

After years of being offline, Spookyland.com is almost redone. It's up now but a lot of the links don't work yet. Homeboy putting it together for me had to go out of town. Should be fully functional in its first stage by Con. There will be more sections too when time permits. This is just stage 1.

My phone died. I have a new number. If I know you and you needs it, contact me on here or Twitter. I lost most of my contacts so I can't call you to tell ya. I tried sending brainwaves but that doesn't seem to work surprisingly. Might be that my brain needs more power or old school rabbit ears.

Sorry I haven't updated in SO long. It's been a tough year but things are looking much fluffier. My 6 year divorce just finally ended so I no longer have that suffocating weight on my shoulders. My ideas are mine once again.

I think that's it. I'm probably forgetting something like that thing I forgot.
Wednesday, May 27th, 2009
---
2:24 am
I'm saddened by California's supreme court ruling to ban same sex marriage. I have many gay friends who have more stable love lives than I would hope to ever have. Why has it become ok to hate one group more than others? Why is it ok for religious groups to mandate what is acceptable and what is not? Do you think gay people chose that lifestyle because it's so convenient? Why is this any different than hating a race for no reason? I'd love to hear your reasoning behind this madness?

current mood:
angry
Tuesday, April 14th, 2009
---
4:55 pm
- Wow..
Friday, April 10th, 2009
---
10:49 pm
- Uh...
Hey, why not...
Twitter.com/taxidermied.
Thursday, April 9th, 2009
---
2:19 am
- "Come with me if you want to live...."
Yeah, I guess I died for a bit. Good thing that demon blood brought me back.
I sincerely apologize for the Houdini act. I've had a hectic year. You wouldn't believe it. As I write this, I finished Lenore #14 a few days ago. I gained around 8 pounds and everything hurts, including my new back hump. I'm typing this quiet cause I'm afraid it can hear me. Shhhhhh... It just moved. It's a side effect to sitting at a drawing table for 2 and a half months, eating only fast food when and IF I realize I'm even hungry, doing nothing else, going balls insane. BALLS INSANE, I says! I have a damn beard, man. That's just wrong for humanity. I look like a mountain man from the hot underworld, and I don't mean Australia. I'm looking forward to getting back outside and doing things with people. REAL people. Weeee.
I'm also coloring around a hundred pages of my original trade paperback collection; Noogies. My new publisher is reprinting the book in color and it's been a tough road. Check this.... That book is so old, the original digital files were on my ancient external drive that died long ago. That was OK, cause I had them backed up at my original publisher's offices. That was OK until a drunk driver crashed into their office, decided they would escape the scene, backed up, running over their computers and destroying everything. The book only existed after that as printer files in Canada, made up of little black dots. I had to take all those pages and "smooth" them out before coloring to make them look good. It was kind of Hell, but I really wanted this to look sweeeeeeet. The new publisher also offered to have other art peeps color it so I wouldn't have to spend countless hours doing it, but there was NO WAY in Hell I'd let anyone else touch my books. A labor of love.
God, I miss having a life and going out and doing stuff. If you follow my Myspace, you'll notice there hasn't been any picture updates. I look like a monster right now. Not a cool monster either. More of The Hills Have Eyes kind of thing. Ewwwww. I was also devastated when Ivy and I broke up and I turned in to a real ass hat for a bit. I've met someone new and super nice so I feel much better.

Almost 6 years after my divorce from a woman I was married to for 3 years, my ex wife is still going after me non stop for more money because she wants half of anything I thought of while we were married because California law allows such things for those inclined to pursue such matters. As you can imagine, that is financially devastating for me, having to shell out 6 years of lawyer fees, not including the huge hunk of alimony I had to pay. I obviously have some opinions on this matter, but I'm not allowed to discuss it or portray any opinions publicly past saying that it is still happening. You can imagine for yourself how hard it is to move forward with your life with that kind of situation trying to pull you down at every turn.

My business manager just payed all the back fees due on Spookyland.com so we could reopen it. I had so many people email me asking why I set Spookyland to be password protected and if they could have said password. I had no idea what the password was cause the web host did that to lock me out cause I owed them so much money! Right now it just came back online but it is not updated at all. He's looking into hiring someone to completely revamp and update it. I already did the new design stuff. Yup. Things are creeping along.

Well, I felt I owed this update that was WAAAAY overdue. My hand is swollen and blistered from all the new drawing and I have a month to finish coloring Noogies so I'm going to go relax and take a night and a day off to drink numerous bottles of wine that my girlfriend was nice enough to bring over. I remember I have this journal again and will start posting. I wish you all the best and thanks for being understanding and hanging in there with me.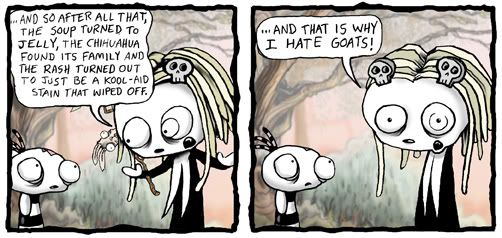 From Lenore#14. Will come out at Comic Con.

current mood:
accomplished
Friday, March 14th, 2008
---
3:18 pm
- Toronto Signing
I'm doing a small signing at Silver Snail Comics tomorrow, Staurday the 15th at 2:00 pm.If you're in the area, come by and say howdy, howdy. I will stare at you silently as though you were some kind of weird, stuttering cowboy type person.



367 Queen St. West

416-593-0889

www.silversnail.com
Friday, February 22nd, 2008
---
2:57 pm
- Subject Shmubject
I find it disturbing that my ipod knows when I'm in, or walking by, a Starbucks. It's all " Hey, this song is playing right now in here. You want it? I can download it right this second." And then I'm all "No."
It just makes me wonder what else it knows.

I just got all the art out today that I've owed people for the past few weeks, including the commissioned pieces (I's been busy, hence my vanishing), so I puts these up.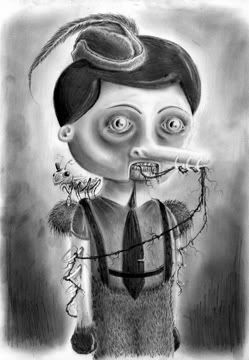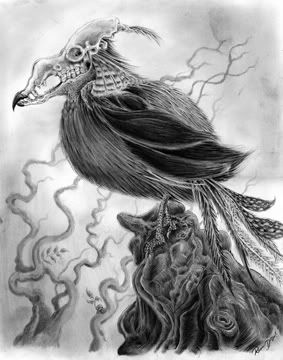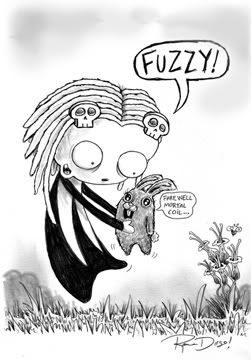 The 2 art book ones are huge and extremely detailed so they are priced accordingly. Actually, they're cheaper than they should be, but I'm being realistic!
The bird took a little over 4 days to draw and is my new favorite. Both are 17 by 14 inches. Lenore is the usual standard size. Pencil on bristol vellum. I accept Paypal only. Taxidermied@aol.com
Here's bigger versions so you can see the detail:
http://img.photobucket.com/albums/v479/Taxidermied/The_bird-pencil.jpg
http://img.photobucket.com/albums/v479/Taxidermied/pinocchio.jpg

Pinocchi -uh oh $500
Birdie Perch - $600
Fuzzy! - $180 SOLD

I have life update stuff I'll post soon since I'm back alive now.

current mood:
tired
Sunday, January 27th, 2008
---
12:12 am
- yup.
I only have a few new drawings for sale. Been mainly working on Lenore #14 now and can't put the pages up until after the book comes out. Makes good sense, no?

http://s251.photobucket.com/albums/gg299/Taxidermyd/

1) Greta $200
2) Boney Arm Guy $155 SOLD
3) Queen Of Horns $125 SOLD
4) Fancy Shmancy Lenore $160 SOLD

Taxidermied@aol.com. First come, first served.
Pencil on bristol vellum. Spray sealed...blah blah blah...

Oh, and they never found the guy from the stabbing incident. Thought they would... what with the blood trail, helicopter and all.
Monday, December 31st, 2007
---
2:31 am
- Whoooooooa!
Sooooo.... This will be an interesting night, no matter how it ends. I was at a friend's house that lives a street over from me and was walking home, texting her that I could hear her stereo all the way at the end of the street. Just as I was hitting send, I had a gentleman try to mug me with a knife. I've studied two forms of Jiu Jitsu, knife fighting being my specialty, and took it from him and stabbed him in the arm with it. He got one good punch to my ribs, but I assuredly won this round, plus I have his damned knife! I just got home and called the police. They are on their way to my house. I'm way adrenaline spazzed out right now and it's hard to type, but I'll update how this pans out. I hope I don't get arrested for this somehow, damnit.

UPDATE.
The police came and went. The officer told me I'm not in trouble, and if anything should get a medal. I have to stay awake for a few more hours in case they bring the suspect by for an ID. Wow...
Sunday, December 30th, 2007
---
6:35 am
- So be it...
If you bought art from the end of December (last week) and haven't got it yet, I apologize. I tried REAL hard to get it out before Christmas so it would arrive just before that semi- magical day. My reverse schedule (awake all night and sleeping during the day) has made things difficult. Plus, me calling Fed Ex that last Saturday, only to find out they wouldn't pick up that day, didn't help matters. As always, if I screw up, I do my best to make it right. Everyone that was supposed to get their piece by Christmas will receive a bonus in their package. My way of saying "whoops" but thanks SO much!
I got everything turned in to an assistant today to send out Fed Ex and the other ones that are over seas when the post office is open, so you should be seeing it within a few days in the states... If you don't, more free stuff for you, damnit!

On a personal note, I went to Bar Sinister alone, a spooky club here in Hollywood, half on a whim and half based off the suggestion of an internet buddy tonight. I had a great time. I'd forgotten how much I enjoy that music and random company. I've been weirdly depressed lately. I'm pretty sure it has something to do with the big love of my life break up hitting its one year anniversary a week ago. It was noted in my mental calendar.
Tuesday, December 18th, 2007
---
1:23 pm
- Decembuuuuuur Art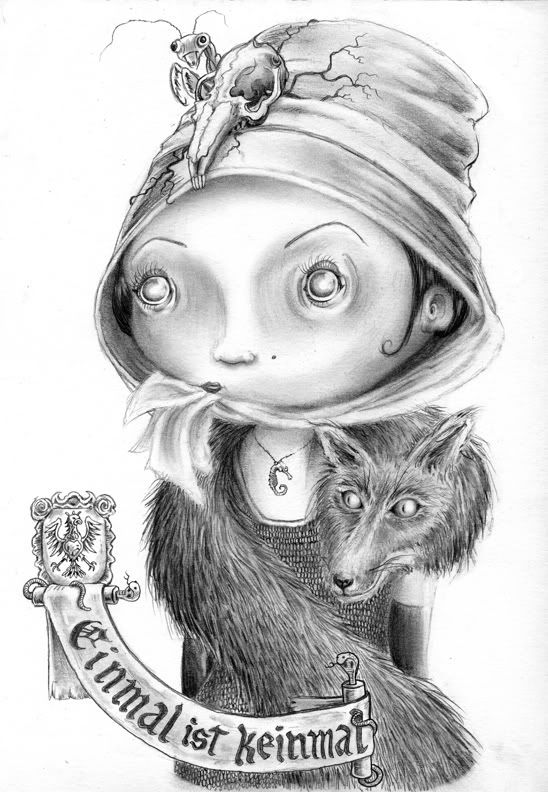 Obviously the last sale of this year.
Due to time constraints here, I can only promise Continental US delivery before Xmas via the magic of Fed Ex. I'm happy to ship outside the US, but before Santa day ain't happenin' for you.

Some new pieces from my art book and I re-listed the ones people asked for before, I marked as sold... and then were never paid for. Weeee.

All pieces are pencil on bristol vellum and have been spray sealed.

US buyers, please include $15.00 for shipping. If it goes over cause of the Fed Ex-ness, I'll pay the difference, so no worries.

Email Taxidermyd@gmail.com to find out if the piece you want is available. If it is, I accept Paypal only. I'm putting a time limit of one hour between when someone asks to buy a piece and then pays for it before I relist it, just so I don't have the snafu like last time.

AND I CAN NOT STRESS ENOUGH, PLEASE, PLEASE, PLEASE write the name of the piece you're buying in the notes section of Paypal so I know what to send you. Thanks. I luvs yoooooou.

http://smg.photobucket.com/albums/v479/Taxidermied/December%20Art/

1) Girls Love Ponies $150 Pending
2)Ewwwww... $150 SOLD
3)Birfday Party $200 SOLD
4)Balloons $150 SOLD
5)BaBa $150 SOLD
6)Willowbean $200 SOLD
7)The Couple $225 SOLD
8)Snow Off White $280 PENDING
9)Dahlia $280
10)Bird Feeder $175
11)Scrunch $125 SOLD
12)Dear Boss $275
13)Snake In The Grass $250
14)Scud Monster $100
15)Keinmal $275 PENDING
16)Open Jugular $100 SOLD
17)Zombie Face $150 PENDING
Thursday, November 29th, 2007
---
3:02 pm
- Signing This Evening
Signing This Evening
Steven and I are doing a signing for our new book, It Ate Billy On Christmas, at Meltdown Comics this evening from 7:00-10:00. This was thrown together kinda quick, so might be a nice and mellow way to spend a Thursday evening. Usually free booze too, but I don't know.

http://www.meltcomics.com/events/archives/00000239.html
Friday, November 16th, 2007
---
2:47 pm
- Stuffs
I find it disconcerting that the sponsored links on the side of my Myspace inbox were all related to the Black Dahlia, Jack the Ripper and Field Marshal Erwin Rommel. Makes me wonder what other people get based on their internet interests.
Also, it is highly amusing to be laying in bed with headphones on and not knowing for some time that a friend has dropped by unannounced with two of her friends in tow, is banging on the screen door... and my cat has jumped on my chest, prompting me to loudly proclaim "Does my little buddy need attention?" over and over. I hope they knew I was talking to my cat when I emerged from the bedroom to greet them.
Wednesday, November 7th, 2007
---
10:37 am
- Italy
I'm back. It was as or more amazing than I had hoped. Such oldness everywhere. Eddie Izzard has a great act about old European buildings and what Americans are used to.
Anyway, most of the pictures I took focused on that. I really love old architecture and am a big fan of empires, so I felt right at home... despite the many, many jokes at my name.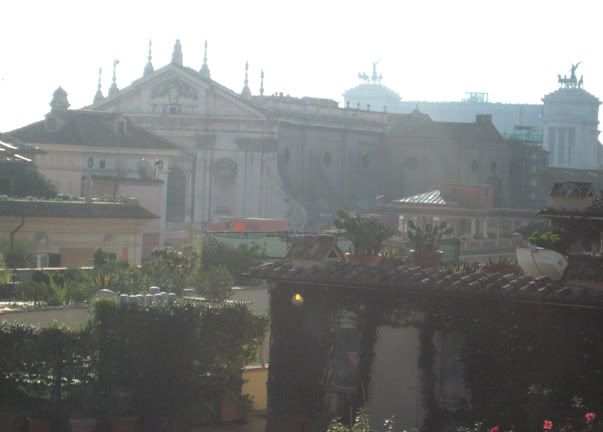 (
Read more. Beware of much photos
Collapse
)
Sunday, October 28th, 2007
---
1:25 pm
- Zoooom....
Couple t'ings.

The La Times just did a write up of my friends Christian and Jessicka's wedding. I gotta say, it was the most interesting and fun wedding one could possibly imagine. Steven and I joked that if a bomb went off atop the deco style hotel's penthouse that evening, the creepy art world would cease, since we were all there. I'll post photos when I get them. Neat stuff. Most of us did vintage dress up attire. I wish I had thought to get married by the Easter Bunny in a tux. Also, according to the LA Times, I am iconic. Haha. I guess I need a me action figure now. You pull the string and it sits on your couch and plays your video games for nineteen hours straight.
http://www.latimes.com/features/lifestyle/la-ig-goth28oct28,1,2276757.story?ctrack=1&cset=true
I think they make you register but it was quick and free, so no big whoop.

I leave for Rome tomorrow. Pretty excited. Many photos will be had, I'm sure.
I spent all week cleaning and preparing for my friend Kelly to get here from Canada and getting ready for our trip, but I did get all the art purchased organized, labeled and ready to go out. If I can't get it to the lovely lady that sends my stuff out today, i'll do it the day after I return, which is just a week. Thanks to everyone that bought something. You gave me spendin' nuggets for my trip. There are still a few pieces left because some people would ask if they were available, I'd label them as pending and would tell other people that asked for them later that I think they're sold... and then the original people never wrote me back. Big fun.
Anyhoo, arrivederci!

current mood:
anxious
Thursday, October 11th, 2007
---
9:51 am
- October Art Sale
Whoa, I got something done quicker than I said. It be the no sleepin' last night. My eyes is buggin'.
I'm going to Italy for a week at the end of this month, so I needs me some extra spendin' nuggets. And if you missed my last post due to me posting twice in one day, the butt game finalists are one post below. Please vote if you feel so inclined.
Here's what I have up for sale this time around:

October Art Sale.

http://smg.photobucket.com/albums/v479/Taxidermied/October%20Art%20Sale/?start=0
There's 2 pages.

1) Hope $75 SOLD
2) Thunk $175 SOLD
3) Scrunch $150
4) Punisher Is Awesome $175
5) Mouse Attack $150 SOLD
6) Haunted Mansion Ballerina $200
7) Girls Love Ponies $150
8) Ewwwww…. $150
9) Death Maze $100
10) Birfday Party $250
11) Berlin Me $125
12) Balloons $150 SOLD
13) Ba Ba $175
14) Amputation $400 (large piece) SOLD
15) Willowbean $250
16) The Couple $300
17) Snow Off White $350
18) Snakey $125 SOLD
19) Rabbit Hole $300
20) Malificent $100 SOLD
21) Jack $200 SOLD
22) Harmless $100 SOLD
23) Dahlia $325
24) Bird Feeder $175 (large piece)
25) Bear Blood $250 SOLD


As always, I only accept Paypal. If there is a piece you're interested in, email me at Taxidermied@aol.com and please state the name and number of the piece. I'll let you know if it's still available and then we sex it up thru Paypal and it's yours. Add $15 for shipping and handling in the continental US. Outside of the US seems to range between $20 and $25.
All art work is pencil on bristol vellum and has been spray sealed for longevity. It's like Viagra for paper.

I have 3 specialty items this time too.

Since I found it oddly appropriate, I have 2 Italian versions of Lenore Wedgies trade paperbacks. It's funny seeing Lenore speak in another language. I drew in the front and back covers of each of these and colored them.

26) Italian Wedgies #1 $175 SOLD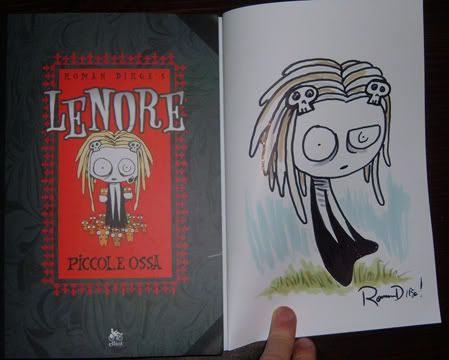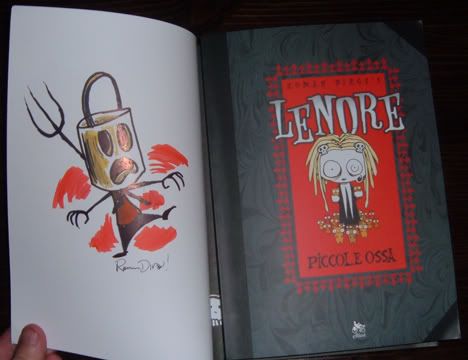 27) Italian Wedgies #2 $175 SOLD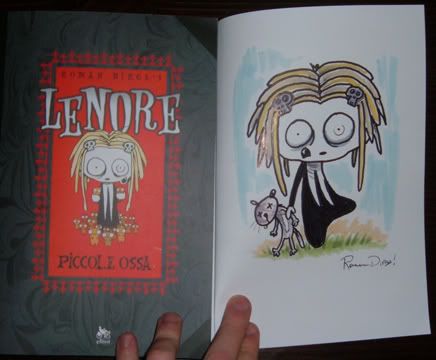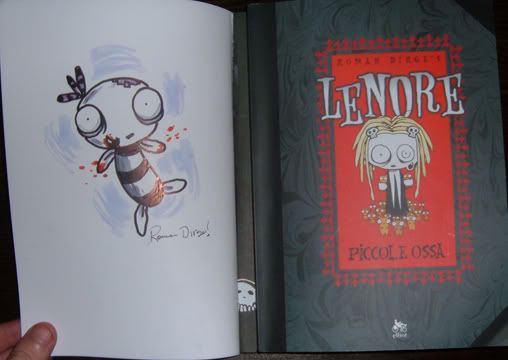 28) My Magic Pencil. $1000
This is one of my favoritest things I have but it is time to retire it. This mechanical pencil drew issues #6 thru #13 of Lenore (8 issues), The Haunted Mansion stuff and most everything I've drawn over the past 7 or 8 years. Own this and you may steal my powers.
Pencil comes signed with a Lenore sketchbook that I've drawn on the first four pages of, including the Lenore Bunny Foo Foo and Spam Witch toy designs. Also a certification from me that this pencil really was used to draw all those issues. It should be noted that I don't actually expect anyone to buy it, but what the hell. That's what it's worth to me. Maybe there's some crazy Suzy Money Pockets out there.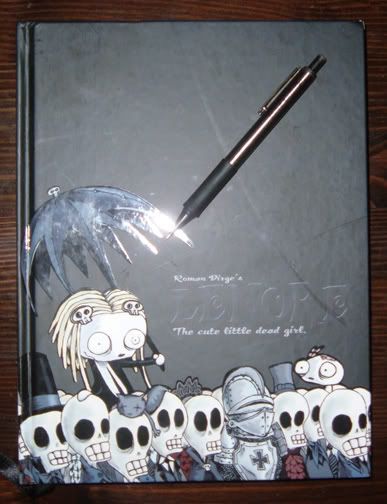 5:36 am
- Two Things:
1) Buttgame: Finalists

Sorry it took so long. You know that's how I roll though. I picked my favorite 15. A couple I liked just because they didn't have to change the name but it still worked under the context. Sorry if yours wasn't chosen. It wasn't personal... Except for a couple of you that I hate. I kid, I kid.... but not really.
Please keep in mind that some of them were submitted by multiple people, so it'll go to whomever posted it first.

When voting, please just put the NUMBER of the 1 (ONE) that you like the best, and not the name so I can count easily. Thankies and good luck.

1) Waiting to Expel
2) Rosemary's Booty
3) Rumpkinhead
4) Das Booty
5) You've Got Tail
6) Eight Legged Cheeks
7) One Flew Over The Poo Poo's Nest
8) Gone With The Wind
9) The Great Asscape
10) The Ass Temptation Of Christ
11) The Ring
12) Hole Boy
13) Donnie Darkhole
14) Metropolass
15) Harry Pooper And The Prisoner Of Asskaban

2) A Roman in Rome:
I'm going to Rome here soon so I'm selling some stuff again. I hired someone to send stuff out so it'll be a lot quicker than when I do it. One REALLY unique item this time too. I'm going to sell my beloved mechanical pencil that I've drawn issues #6 thru #13 of Lenore with and It'll come together with a Lenore sketchbook that I've used (drawn on) the first four pages of. The metal pencil is signed and comes with a certification that I actually used it for those 8 issues of Lenore and the Haunted Mansion books and everything else I've drawn over the last 7 or 8 years. If you believe there is power in objects, this should have something. Maybe cooties. Kind of the ultimate Lenore collectible item, but it should be for the $1000.00 I'm asking for. No one buys it, I keep my magic pencil. The other stuff is my newer art pieces and Lenore #13 originals.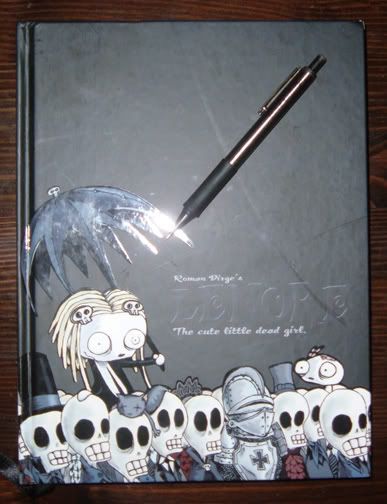 Anyhoo, I hope to list the items by tonight (Thursday) or early Friday.

current mood:
groggy
Saturday, September 22nd, 2007
---
11:29 am
- And there it is....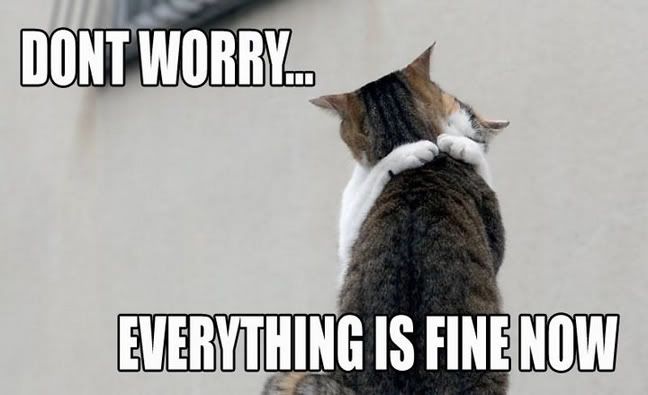 Yeah, I deleted last night's post. I read everyone's comments first and I thank you. Some wise souls out there. Sad posts at 3 am are just not a great idea and I don't want someone important in my life reading it the wrong way and getting their feelings hurt. It wasn't anything mean. It was all directed at myself. I've just made some bad life choices as of late and only want to concentrate on getting back on track. Weeee.

I'll pick the finalists for the butt game the beginning of next week. I expected a lot of replies but I didn't count on THAT many! Geez.

Also, Resident Evil 3 was one of the worst movies ever made. I'm so angry about it.... Didn't help my mood, that's for sure.
---